Golden Retriever
The
Golden Retriever
is the perfect family pet and companion.
Golden is a very popular breed, sturdy, loving, eager to please, and gentle.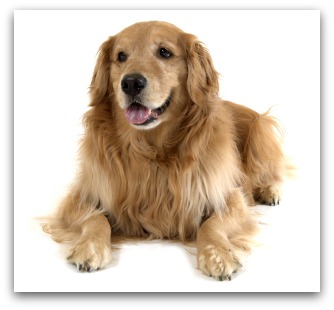 BREED GROUP:
Sporting
RECOGNITION:
AKC, UKC, CKC
OCCUPATION:
Hunter, companion, performance sport
HEIGHT:
Male: 23-24; Female: 21.5-22.5 inches
WEIGHT:
Male: 65-75; Female: 55-65 lbs
COLOR(S):
various shades of gold
LONGEVITY
: 11 to 13 years
EXERCISE
: Vigorous daily exercise
GROOMING
: Easy to moderate
TRAINING:
Easy, moderate to keep challenged
Submit Your Dog Pictures Here!
Origin
Golden Retriver
originated Scottish Highland, has a beautiful golden coat, and bred as a water retriever and a hunter. Golden dog's history, probably to 1865, when the shuttle when the Scottish popular hunting, so good hunting of wild animals on the popular medium-sized dog.
In the early of time, Lord Tweedmouth wish to have a dog was kind, loyal and energetic, so he developed a dog by crossing original yellow Flat-Coated Retriever and been extinct Tweed Water Spaniel, become
Golden Retriever
nowaday.
The Golden
Dog Breeds
was recognized by the AKC in 1925.
Coat
The
Golden Retriever
is a medium to large size sturdy
dog breeds
. The Golden has a double coat that is weather resistant or water-resistant. The dense hair coat , the hair or wavy hair to smooth hair, hair of its rich decoration. The legs and tail are covered with longer hair.
The coat color is rich with golden colors to cream colors.
Training
They is a easiest breeds to train, the breed needs a mental stimulation and a challenge of training. A bored Golden will get into bad trouble, so it always need a training to keep it happy nature attitude. Should start training the household rules and correct social behaviour when golden was just a puppy.
Grooming
The Golden Retriever requires daily exercise, in addition to running outside, swimming is also good, preferably with same water with your dog. Ear especially must be kept dry to prevent infection.
The Golden requires daily and brushes with bristle brush, and they need to be regularly dry shampoo.
Some golden are on the salt sensitive, after swimming in the sea, must going to wash away the salt body as soon as possible.
Overview
Golden Retriever are a excellent family dogs, they are the world's foremost family pet and companion. The Golden is a loyal and devoted dog, This dogs love company people. They get well with children and other pets as well.
Are you can't find the exact information on these page? Talk to our expert veterinarians, Our Online expert vet will answer your specific question Right Away!
Related Breeds
Also Search Dog Breeds Related Pages:
Miniature Toy Dog Breeds
Types of Dogs
Most popular Dog Breeds
Smartest and Most Intelligent Dog Breeds
Hypoallergenic and Non Allergic Dog Breeds
Non shedding dog breeds- Shed less hair dogs
Good Dog Breeds for Children
Best Dog Breeds for Families