Jack Russell Terrier
The
Jack Russell Terrier
is an extremely loyal and loving family pet
and will do well with gentle children.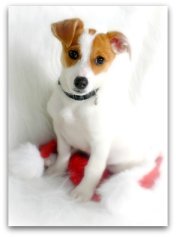 BREED GROUP:
Terrier Dogs
RECOGNITION:
JRTCA, UKC
OCCUPATION:
Hunter, performance sport
HEIGHT:
25-38 cm
WEIGHT:
6-8 kg
COLOR(S):
white with tan, black, brown markings
LONGEVITY
: 14 to 16 years
EXERCISE
: Daily exercise
GROOMING
: Easy
TRAINING:
Moderate
Origin
The
Jack Russell Terrier
is a
working dogs
terrier developed by Reverend John Russell of Devonshire, England, in the mid to late 1800s. They bred to used as a small, sturdy game hunting dog, hunt for red fox, tracking, agility, and performing tricks and digging and burrowing into foxholes and dens.
It is now known as the
Parson Russell Terrier
in AKC, but remains the
Jack Russell Terrier
with the UKC.
Coat
The
Jack Russell
coat comes with three varieties, which is smooth, rough, and broken. The coat colors normally comes with white with tan, black, tri-color markings or brown markings. He has a proportion and well balanced body length. The tail is docked. They shed constantly.
Character
The
Jack Russell Terrier
is a devoted, loving, cheerful, and are full of energy character. They love and enjoy to playing with their toys. They are gentle, friendly and kind to the children.
They are both a working dog and a companion
dog breeds
.
Training
Socialization training and obedience training are important for the
Jack Russell
. They are feisty and think for themselves, so that the training can be difficult, determined, and willful.
They requires a firmness, fairness, consistency training with a patience trainer. You need to make the training challenging and fun enough to keep them interested.
Here are the
dog training tips
for your reference.
Grooming
Grooming the
Jack Russell Terrier
is not difficult. The short coat of the Jack Russell Terrier only requires an occasional brushing. The smooth coat dogs can be brushed with a soft bristle brush or curry bomb twice weekly.
Bathing should only be done when is necessary.
Overview
One words can only describe
Jack Russell
is "feisty", he is always full of energy and some peoples found their energy level is overwhelming. Although this breed can be good with all ages of people, but they sometimes can be too pushy for small children or the elderly.
They are highly intelligent and will amuse you for hours on end. These
breeds of dogs
have an inquisitive nature.
Are you can't find the exact information on these page? Talk to our expert veterinarians, Our Online expert vet will answer your specific question Right Away!
Also Search Dog Breeds Related Pages:
Miniature Toy Dog Breeds
List of Small Dog Breeds
List of Medium Dog Breeds
List of Large Dog Breeds
Types of Dogs
Most popular Dog Breeds
Smartest and Most Intelligent Dog Breeds
Hypoallergenic and Non Allergic Dog Breeds
Non shedding dog breeds- Shed less hair dogs
Good Dog Breeds for Children
Best Dog Breeds for Families
Search Dogs by Name:
|
A
|
B
|
C
|
D
|E F |
G
|
H
| I |
J
| K |
L
|
M
| N | O |
P
| Q |
R
|
S
|
T
|U |V |
W
|X |
Y
|Z |
Can't find the breeds you want in
list of dog breeds
? Find out at Our
Directory !