Dog Training Tips
How Does Someone Do Dog Training?


When a person gets a new puppy to add to the family, good dog training tips are great to look into!
Of course right when a person brings it home they will want help with it.
Because people that have never had a dog have so many questions.
Here are some answers to those questions:\
1.Have A Early Start
It is best to start the training as soon as the person brings the puppy home that would be when it is at least eight weeks old. The first thing is simple to do. It is to teach the puppy it's name and the command 'sit'.
A person should start off on the right paw by beginning with obedience training right when they get home.
This dog training tip is very important.
2. Obedience Training Should Be Often But Little Lessons
One dog training tip for the puppy is to have three to five minute lessons three to five times a day. When the puppy starts to pay attention more than the person can up the minutes.
Another thing to do is to put the puppy in a Puppy Class as soon as it has all the puppy shots.
3. Make It Positive
The puppy will do better if the person gives positive reinforcement in dog training.
Use treats, praise and even play. They will look forward to it.
4. Smile!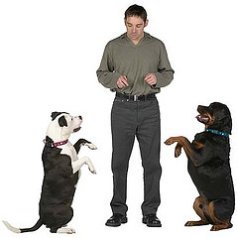 Animals can sense when a person gets upset or stressed out. So it is best to not get so worked up when the puppy does not do what you want.
Keep a happy attitude no matter what.
But, if the person is in a bad mood don't start a lesson that way wait till the person feels better.
5. Don't Expect It Over Night
The puppy was not born knowing his or her name or to go to the restroom outside. So don't expect the puppy to do what you want right away. It is a baby after all remember this when dog training.
6. Ask For Help When The Person Needs It
There are many places and websites to get help. The person just does not have to be afraid to ask for it. There will be someone to help the person out.
All of these dog training tips can be attainable. The person just needs to be patient.
This will not happen over night but the person can also go to the dog training online site.
Here's the fastest, most effective, and
most FUN way to train your puppy or dog
.
Train your dog with the same fast, effective, fun way a professional dog trainer uses to train pet stars in film, television, and commercials.
Also Search Dog Breeds Related Pages:
Miniature Toy Dog Breeds
List of Small Dog Breeds
List of Medium Dog Breeds
List of Large Dog Breeds
Types of Dogs
Most popular Dog Breeds
Smartest and Most Intelligent Dog Breeds
Hypoallergenic and Non Allergic Dog Breeds
Non shedding dog breeds- Shed less hair dogs
Good Dog Breeds for Children
Best Dog Breeds for Families
Search Dogs by Name:
|
A
|
B
|
C
|
D
|E F |
G
|
H
| I |
J
| K |
L
|
M
| N | O |
P
| Q |
R
|
S
|
T
|U |V |
W
|X |
Y
|Z |
Can't find the breeds you want in
list of dog breeds
? Find out at Our
Directory !