Bull Terrier
The
Bull Terrier
is active, happy, sweet, friendly and fun-loving dog.
They love people, and love children a lot.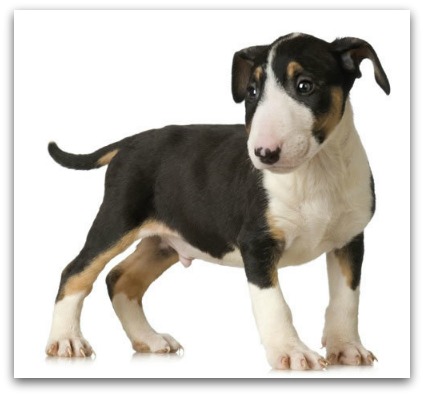 BREED GROUP:
Terrier Dogs
RECOGNITION: AKC, UKC, CKC
OCCUPATION
: Companion
HEIGHT:
21-22 inches
WEIGHT:
55-65 lbs
COLOR(S):
white, with markings on head permissible,
or any color with white markings, brindle
LONGEVITY
: 12 to 14 years
EXERCISE
: Very active and playful
GROOMING
: Easy
TRAINING:
Challenge
Origin
In the early 1800's,
Bull Terrier
is a cross between the old English Terrier, Spanish Pointer, and some say with Dalmatian too. These dog breed has been used as a
guard dogs
, ratter, herder and watchdog. This breed was a gentleman dog and was called the White Cavalier.
These
breeds of dogs
was registered with the AKC in 1885.
Coat
The
Bull Terrier
is a strongly built, athletic, muscular dog. The body is strong and with a deep, broad chest. The hair is glossy and close lying.
Their coat is dense, short, flat and harsh to touch. The coat colors comes with all white, and the patches of color on the head is not allowed. The colored variety may us black, red, fawn, brindle, and tri-color with white markings.
Training
The
Bull Terrier
is active, intelligent, sometimes is very stubborn, these breed can be difficult to train. Socialization and Obedience training is a must for Bull Terrier.
He is quite independent when he wanta to be. They need a very firm training, and must be handled with patience and positive reinforcement. COntinue training into adulthood can help channel those characteristic.
Here are the
dog training tips
for your reference.
Grooming
They is easy to groom, it is does not require much grooming. The short coat requires brushing with a rubber brush occasionally.
This dog breeds is an average shedder, shedding around twice a year. Removing the loose hair is easy with using the rubber brush. Bathes or dry shampoo when is necessary.
Overview
The
Bull Terrier
is active, happy, sweet, friendly and fun-loving dog. They love people, and love children a lot. He will be good with the family cat when raising with them, but sometimes will chasing the cats too.
They are very high energy and very active. They need to bring for lots of exercise. They can also be food aggressive.
This breed will thrive in a busy home where people will spend time with him.
Are you can't find the exact information on these page? Talk to our expert veterinarians, Our Online expert vet will answer your specific question Right Away!
Also Search Dog Breeds Related Pages:
Miniature Toy Dog Breeds
List of Small Dog Breeds
List of Medium Dog Breeds
List of Large Dog Breeds
Types of Dogs
Most popular Dog Breeds
Smartest and Most Intelligent Dog Breeds
Hypoallergenic and Non Allergic Dog Breeds
Non shedding dog breeds- Shed less hair dogs
Good Dog Breeds for Children
Best Dog Breeds for Families
Search Dogs by Name:
|
A
|
B
|
C
|
D
|E F |
G
|
H
| I |
J
| K |
L
|
M
| N | O |
P
| Q |
R
|
S
|
T
|U |V |
W
|X |
Y
|Z |
Can't find the breeds you want in
list of dog breeds
? Find out at Our
Directory