Afghan Hound
The Afghan Hound is one of the oldest, sighthound dog breed. The Afghan is a lively and active creature with a very individual personality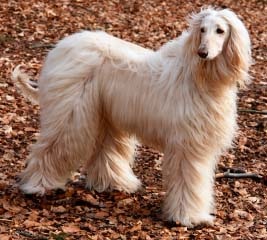 BREED GROUP:
Hounds
RECOGNITION: AKC, UKC, CKC
OCCUPATION
: Hunter, Companion
HEIGHT:
Male: 27; Female: 25 inches
WEIGHT:
Male: 60; Female: 50 lbs
COLOR(S):
all colors permissible except spotted
LONGEVITY
: 10 to 12 years
EXERCISE
: Daily run
GROOMING
: Difficult
TRAINING:
Challenge
Submit Your Dog Photos Here!
Origin
Afghan hound
originating in the Middle East,
the ancient breed hound. This is a very elegant, ancient dog, the
Afghan
is a sighthound, it hunts by sight and has been used to hunt antelope, wolves, snow leopards and other animals.
Coat
Hind legs, flank, ribs, forequarters, and legs were covered with dense, filamentous hair, fine texture, ears, four feet are feathering, starting from the front of the shoulder, extending to the rear for the saddle-shaped area of hair a bit shorter, and close to form a smooth back in mature dogs, this is the characteristics of the
Afghan Hound
.
Afghan
is a natural form appears, hair does not need pruning or trimming, is a long head filiform hair was also a distinctive feature.
There are many requirements for the coat, one being that it should never be trimmed, and should remain natural.
Character
spirited, very sweet, loyal, affectionate, beautiful and intelligent, this
dog breeds
is very often seen in the show ring. They is very dignified but can be disobedient if not trained properly.
Afghan
hound
love water, once it saw water, it will straight away jump into the water without any doubt.
Dog Care
Large adult individuals in Afghanistan, and good activities, so necessary to appropriately increase of food, the food in the feeding, the daily need for about 500 grams of meat, and add equal amount of dry biscuits or cooked vegetarian, feeding before the first cooked chopped meat, then add water and mix thoroughly cooked vegetarian fed dry.
feed must be fresh, handle clean, can not feed stale, bad food, especially in the summer, do not feed leftover food must be fresh food,
Bowls and other utensils should be cleaned every day to avoid food poisoning, in the feed, fish should be added, it will give the dog hair soft and smooth, to maintain the appearance of handsome dog, normally do not eat after dinner snack.
Training
Training the
Afghan
can be a challenge, they is sensitive. Bred to work independently, it prefers his own agenda to someone else's and can have a quite stubborn streak. they can be disobiedient if an owner does not give the dog clear guidelines.
In the house, young
Afghans
are known to be destructive chewers if given too much freedom and not allowed enough exercise. With the right motivation,
The
Afghan Hound
can learn to enjoy training and to go along with household rules.
Grooming
combing hair day , should be done two to three times per year, professional dressing. Do not brush in-between baths in order to keep coat long and shiny.
Baths are necessary once a week to keep the coat from matting, it is clear the wax, stains, and mucus, trimming claws.
Overview
Afghan Hound
is Advantages for the bold, independent, independent and strong, do not need special care and disadvantages for the individual stubborn, headstrong, and only those who understand its nature, it effectively control
This is fun breed for people who understand it.
Related Dog Breeds
Also Search Dog Breeds Related Pages:
Types of Dogs
Miniature Toy Dog Breeds
Most popular Dog Breeds
Smartest and Most Intelligent Dog Breeds
Hypoallergenic and Non Allergic Dog Breeds
Non shedding dog breeds- Shed less hair dogs
Good Dog Breeds for Children
Best Dog Breeds for Families
Can't find the breeds you want in
list of dog breeds
? Find out at Our
Directory !
Are you can't find the exact information on these page? Talk to our expert veterinarians, Our Online expert vet will answer your specific question Right Away!