Nikki ThePoddle
by Marylou Roseman
(Westborough, MA)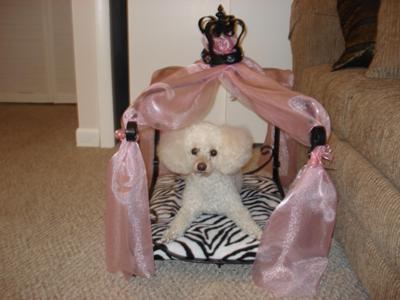 My mommy likes to pamper me with practical gifts. Look what she got me for Xmas. A lavish bed topped with a jeweled "crown" and a decadent animal-print velvet pad. She decorated it with pink canopy curtains to add a royal splendor look to it.
She didn't spend a lot of money on this bed. She is smart!
My mommy is pawsitively awesome; she makes me feel like a Pup Star!
A kourteous k-9 as I am, I thanked her with love kisses!
If I were a kitty cat I would say, "Purrrfect", but because I am a puppy I say Woofunderful!

Join in and write your own page! It's easy to do. How? Simply click here to return to Have a Handsome Dog?.